Stelios's Place
A place for thoughts and ideas
Twitter + PicAxe = Fun!

I made this small project to demonstrate that is possible to interface PicAxe with Twitter. You can make your PicAxe twitter! The main part of the projet is a PC which receives the messages from the PicAxe and pushes them to the Twitter site. The results: You can track data from your PicAxes through Web or SMS! This projects reads temperature data and sends an update to Twitter. Since I'm following my house' twitter feed I get to receive SMS messages as well :-) Let your house Twitter!
A small Python script running on the eeePC reads the values from the serial port. The values comming from the PicAxe contain the Username and Password for the Twitter account and also the message to be sent. Make sure you tweak the PicAxe source code befre programming the chip or else the Python script will fail to authenticate to the Twitter web site. You will also need to install the pySerial module that is needed by the Python script. You will find the link in the Files section. The script should be able to run OK under Linux, FreeBSD and windows. You need to make sure that the serial port is set to the correct one.
The development took place on a eeePC using the newly released
command line compilers
for PicAxe. I also used a USB-to-RS232 cable since the eeePC doesn't have a serial port. I've used a breadboard for the circuit and small 08m protoboard. The Python script will be running 24/7 from a small FreeBSD server I have for such projects.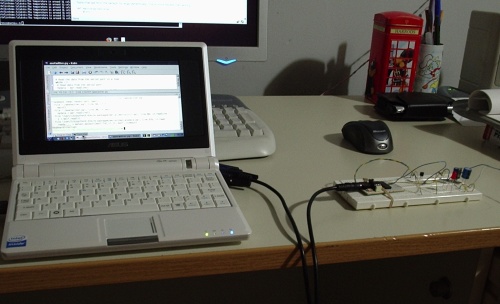 ASUS eeePC 701 and PicAxe!
The circuit is based on the circuit provided in the manual (page 60) for interfacing the PicAxe to a DS18B20 temperature sensor. You are going to need the download circuit and a serial cable for the RS232 communication between the PC and the uC. I have also an LED on pin 1 which turns on whenever the PicAxe sends data to the PC.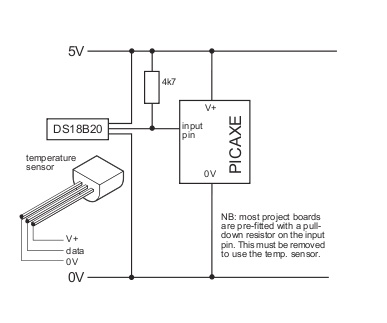 The PicAxe circuit is based on the circuit in the manual.
Check out the improved network enabled version of this project
here
. You can see the twitter page
here
.
Comments and suggestions are welcomed.
~steliosm
Downloads:
Search
Navigation
News
5.07.2020
Words & Letters: Connected smart wooden blocks toy. Have a look here.

15.09.2017
Cubee: An IOT desktop toy that displays the weather. More info here.

04.10.2015
A wooden treat dispenser your pet using a smart phone and blue-tooth. Have a look here.
08.12.2013
IKEA Strala Lamp modification! Use a PicAxe chip to add X-mas tunes and control the lamp from you PC through the USB. Have a look here.
20.06.2013
Little Bes: the lost rabbits - Mini old-school platform game! Have a look here.