Stelios's Place
A place for thoughts and ideas
Jabber (XMPP) + PicAxe = Even More Fun!
This is a small project that demonstrates how easy it's to interface a PicAxe chip with the XMPP (Jabber) protocol. If you have a Jabber or GTalk account you can easily track and receive data from the PicAxe chip. What you actually get with this project is a fast way to receive updates as they happen. There is no need anymore to poll for updates from a web page or an RSS feed. Information will come to you :-) You also get to connect the physical world or your devices to the Jabber/GTalk world. You get the point...
Note, that you will need to create a seperate account for the PicAxe to use and send updates with. You might want to use the server at www.jabber.org. Remember that you also need to add the PicAxe Jabber user as a 'Buddy' in order to be able to track data updates. The data can either be displayed, silently, as a user's status or sent as an alert through as a chat message.


A small Python script is running on the eeePC which logs on to the Jabber network and reads values from the serial port. When data arrive the script updates the status or sends a chat message. The values coming in from the PicAxe needs to follow a simplified communication protocol. In order to show data as a status message, PicAxe should send:
s:This is some data!

If you want to send data as a chat message to user user@jabber.org, PicAxe should send:
c:This is an Alert!:user@jabber.org
I'm planning to add a couple of things more, like broadcasting a message to all 'subscribed' online users. Will take some time though... :-)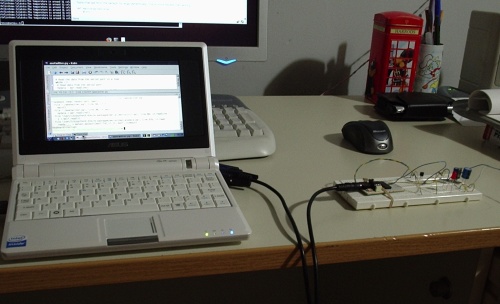 ASUS eeePC 701 and PicAxe!
On the image below you can see the Python script logged on the Jabber network. The PicAxe user status is updated and displays the temperature in my room.
The circuit is based on the circuit provided in the manual (page 60) for interfacing the PicAxe to a DS18B20 temperature sensor. You are going to need the download circuit and a serial cable for the RS232 communication between the PC and the uC. I have also an LED on pin 1 which turns on whenever the PicAxe sends data to the PC.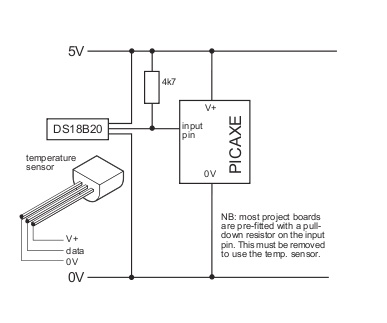 The PicAxe circuit is based on the circuit in the manual.
Comments and suggestions are welcomed.
~steliosm
Downloads:
Search
Navigation
Projects

Jabber (XMPP) + PicAxe = Even More Fun!
News
5.07.2020
Words & Letters: Connected smart wooden blocks toy. Have a look here.

15.09.2017
Cubee: An IOT desktop toy that displays the weather. More info here.

04.10.2015
A wooden treat dispenser your pet using a smart phone and blue-tooth. Have a look here.
08.12.2013
IKEA Strala Lamp modification! Use a PicAxe chip to add X-mas tunes and control the lamp from you PC through the USB. Have a look here.
20.06.2013
Little Bes: the lost rabbits - Mini old-school platform game! Have a look here.