Stelios's Place
A place for thoughts and ideas
PicAxe AM Transmitter
This is a small project that I built in less than an hour after checking out the following sites:
Computer Controlled Radio Transmitter
Emergency Egg Locator Beacon
This simple circuit can be used to track down an R/C Airplane when crashed somewhere on the ground or it could be used to transmit a few words in Morse code as a Beacon.
The same circuit found in the EELB site is replicated with a PicAxe 08M chip as shown in the image bellow. Voltage needed is 5v. The LED with the resistor helps modulate the signal. You could also use the sound command on pin4 to module the signal with a certain sound.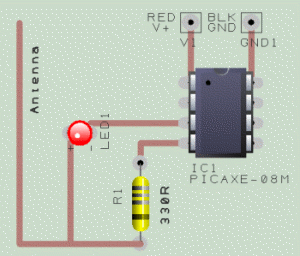 The circuit board
The PicAxe chip runs at 4MHz and can act as an oscillator by using the PMWout command. The
pwmout wizard
can really help to specify the duty cycle and the period for a given freq. Clocked at 4MHz the PicAxe can act as an 1MHz oscillator. Make sure you use plenty of wire as an antenna.
Comments and suggestions are welcomed.
~steliosm
Downloads: